WE ENGINEERED THEM WITHOUT WIRES—OR COMPROMISES. IT'S JUST YOU AND YOUR MUSIC, WITH NOTHING IN THE WAY.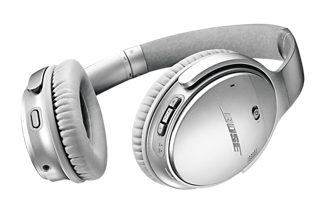 QUIETCOMFORT® 35
WIRELESS HEADPHONES II
All wireless.
All for music.
You knew we delivered on performance. But you wanted that performance to be wireless — for every type of headphones. So we engineered headphones that give you unmatched performance and superior comfort whether you're at work, commuting or exercising. With no wires and no compromises, you're free to get lost in your music.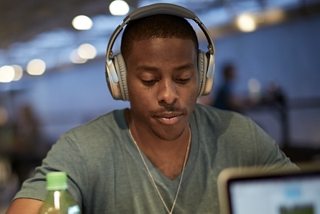 Wireless freedom meets powerful sound
When you're commuting or working out, you don't want Bluetooth® connection to be a "sometimes" thing. So we developed different mechanical and electrical solutions in the earcup to deliver a reliable wireless connection. And you never have to reach for your device: multi-function controls let you switch seamlessly between two Bluetooth devices, change volume or tracks, and take/end calls. And in our QC35 IIs, you can adjust your level of noise cancelling between three settings. With headphones engineered to deliver a better wireless experience, you can stay in the zone—whether you're at the gym, the office or anywhere in between.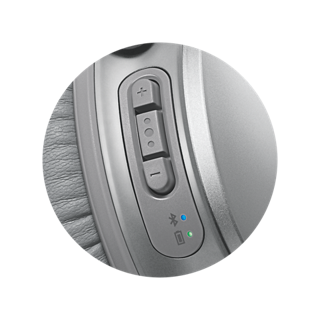 Better materials make better headphones
NOISE CANCELLING
Wireless headphones let you take your music anywhere. That's why we built them to keep up. Impact and corrosion resistant materials in our over-ear models are engineered for life on the go. And they'll stay comfortable with premium, plush ear cushions—so even when you listen all day, it won't feel like you're wearing headphones. And our QuietControl 30 headphones have a lightweight neckband that conforms to your body and stays comfortable on your longest trips.
SOUNDSPORT
Exercise is a demanding activity. And you demand a lot from your sports headphones. Our SoundSport models are durable and give you unmatched comfort and stability, so they'll stay with you through the rigours of your toughest workouts. And whether you're sweating it out in the gym or training outside in the elements, a hydrophobic cloth keeps moisture out. And you won't have to hold back.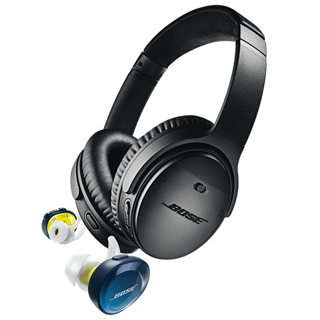 WIRELESS NOISE CANCELLING HEADPHONES
Our QuietComfort headphones are engineered with world-class noise cancellation that makes quiet sound quieter and music sound better. Once you flip the switch, you'll get the feeling—it's just you and your music, no noise or wires in the way.

The best from Bose. Now even better.
QuietComfort 35 wireless headphones II are engineered with world-class noise cancellation. And now they're even better. The Action button lets you adjust your level of noise cancelling between three settings. So you can set it to the one that feels right for your environment and your music. It's easy to access your phone's default virtual assistant, like Siri—the multi-function button on the other earcup gives you quick access. It also gives you more control of your music. And we know you want astonishing performance at any volume. That's why our volume-optimized EQ keeps the sound balanced, no matter how much you turn it up or down. And the premium, lightweight materials and 20 hours of battery make sure you can listen all day.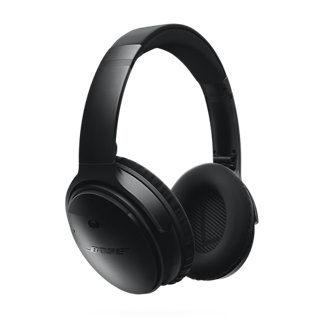 Cancel noise. Control noise. Wirelessly.
You can't control how noisy your environment is. But you can control how much of it you hear. Set your own levels of noise cancellation, and decide precisely how much of the world you want to let in. QuietControl 30 headphones use proprietary technologies to deliver balanced audio performance at any volume, too. A lightweight neckband design conforms to your body for all day wearability, and StayHear+ tips stay secure through the entire 10-hour battery life. And you can leave the wires behind: they're engineered for Bluetooth and NFC pairing so you'll stay focused on the music.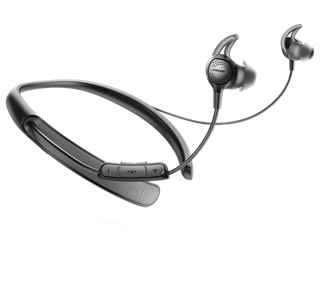 WIRELESS SPORTS EARPHONES
When you're raising your game, you expect your gear to keep up. Our SoundSport headphones are up for the challenge. All the wireless models have the performance you need to push further, with StayHear+ Sport tips that stay secure and comfortable.
No wires. No stopping you.
Get clear, powerful sound from our first truly wireless in-ear headphones. We packed them full of technologies so you can push your training to the next level. We shaped, and then reshaped, the buds to give you a strong, reliable Bluetooth connection no matter where your phone is during the workout. And if you sweat a lot, don't sweat it. They're designed to keep rain and moisture out.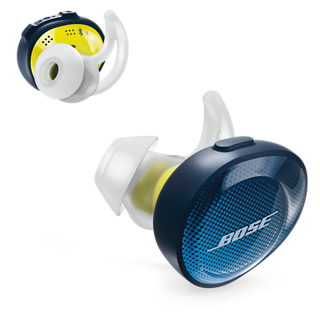 Powerful workouts deserve powerful tech
You put your heart into your workout. SoundSport Pulse wireless headphones have powerful technology to track it. The built-in heart rate sensor tracks your performance directly from your ear and gives you the information you need to take your workout to the next level. StayHear+ Sport tips stay comfortable and secure through it all and ensure accurate readings. We know you like to turn up the intensity, so we designed them to be sweat and weather resistant, too. And they're engineered with Bluetooth and NFC pairing to keep the wires out of your way. Because when you're giving it your all, nothing should slow you down.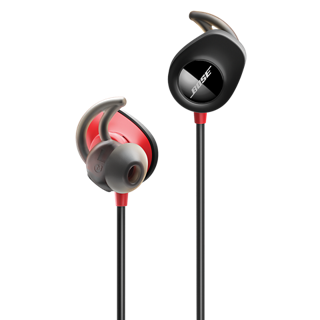 Engineered to push you forward
SoundSport headphones are designed with powerful audio performance that keeps you moving. The redesigned StayHear®+ Sport tips feature a unique shape that stays secure and comfortable during your toughest workouts. And you can sweat through them without worries—the acoustic ports are positioned to resist sweat and weather, and a hydrophobic cloth keeps moisture out. When you're moving, you want a quick wireless connection that keeps you tangle-free. These are engineered with Bluetooth and NFC pairing—so when it's time to dig deeper, there's nothing holding you back.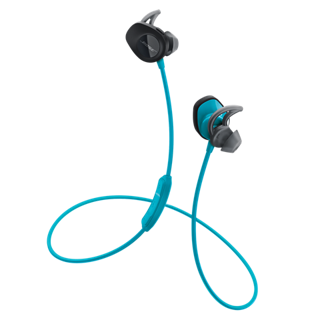 Better sound you can wear
Now you can have the freedom, flexibility and personal experience of headphones and the clear, full sound of a speaker—without having to block out the world around you. This comfortable wearable speaker immerses you in deep, rich sound with surprisingly full bass that surrounds you and only you. So you can enjoy your music, take calls and use voice assistant apps at home, at work or on the go.